Our Mission
---
JVDStrong was created after the brutal Category 5 Hurricane Irma's Eye passed directly over our beautiful island of Jost Van Dyke, by people who consider the island and the people there family. We have all seen the devastating and heartbreaking photos on the internet. JVDStrong is working in collaboration with the JVD Preservation Society a registered BVI Non-Profit and US 501c3 Non-Profit, 100% of funds raised will go directly to help the people and the island of Jost Van Dyke.
This storm has caused damage throughout the entire BVI and many other Caribbean islands. Funds and humanitarian aid are desperately needed, today and for the foreseeable future. If Jost and the beautiful people there have touched your life and heart in anyway as they have ours, we encourage you, this is a way YOU can effect them positively and know funds will go towards the much needed aid and the eventual rebuilding. All funds raised are fee free and go directly to the cause. God Bless and we are Stronger Together…
-Jeremy Delk & Friends of JVD
---

Send a Donation
---
---
---
Benefiting Hurricane Irma Disaster Relief for the people and island of Jost Van Dyke, BVI
---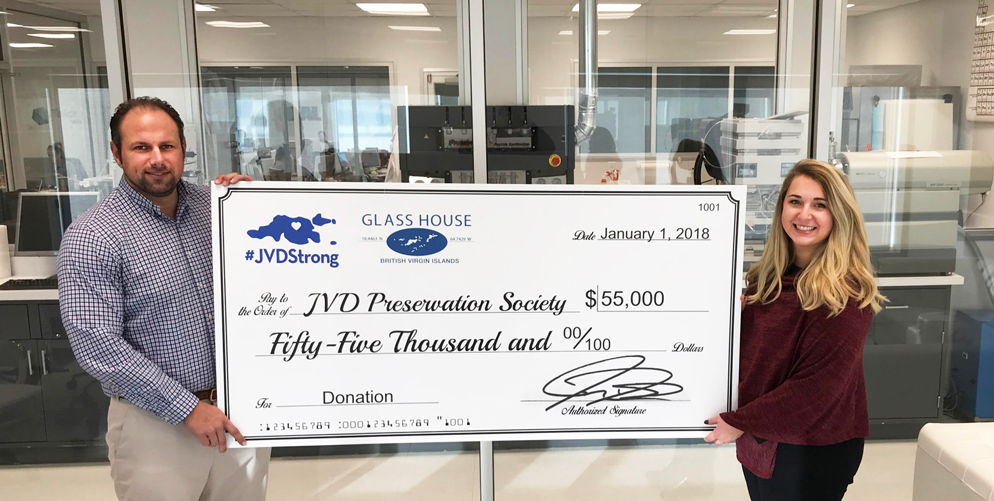 Nearly 5 months after Irma, while the rebuilding process is well underway, power and utilities have been restored, there are still families without adequate resources and shelter. There are many still out of work with the tourism economy just beginning to come back after a big Old Years Eve party at Foxy's.
Thanks to all of you, who JVD holds a special place in your hearts, we have reached our initial goal of $55,000. We couldn't have done it without your love and support! JVDStrong and Glass House BVI are excited to present the JVD Preservation Society with this donation. The funds raised have been used to purchase a 40ft container of building materials including plywood, T1-­11 roof sheathing, metal roofing, and respective fasteners, etc. We have a goal to help rebuild 10-­12 houses and have further set aside another sum of money to pay qualified JVD locals to help in this reconstruction effort. The container is set to arrive in Jost around Jan 15th.
We're never going to stop caring for the beautiful people and island of JVD. Most of the JVDStrong T-­shirts have sold out, but you can still purchase hats and donate. Again, thank you so much for your love and generosity.
Interested in Becoming a friend of JVD?
Join us as a sponsor to cover costs of JVDStrong shirts so 100% of funds go to aid.
If you wish to make a donation to benefit the rest of the USVI & BVI we recommend these fee free organizations so more of the proceeds go to help the people who desperately need it.
Kenny Chesney's Love for Love City Foundation
Make a Donation
---
Richard Bransons-Hurricane Irma Appeal
Make a Donation
---